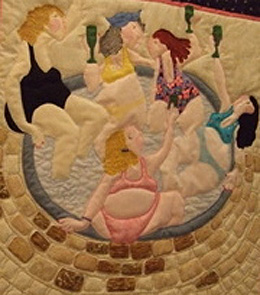 All the groups listed are run independently and we are happy to list them here. Many people belong to a local group as well as to Norfolk Quilters in order to enjoy the benefits of both.
If you wish to add a group or update details please go to the Contact Us page for contact details.
More information can be included on the web such as meeting times and email addresses; contact the Web Editor for this but please remember it is your responsibility to keep the information up to date.
King's Lynn and North West Norfolk
Alveva Quilters (Feltwell, South-West Norfolk – south of Methwold) – 3rd Wednesday evening every month (Dec. and Jan. afternoon meetings) Beryl Quilter 01366 727472 or Heather Clapp 01366 727017
Castle Quilters (Swaffham area)  Ann Tait 01760 723422
Flying Geese Patchwork & Quilting Group (Dersingham, North-West Norfolk) – alternate Thursday mornings. Marjorie Tuffnell 01485 540871
Samphire Quilters (Kings Lynn) Angela Simpson 07388057128 or Sue Hatcher 07717673089  
Talk Torc (Snettisham Area – West Norfolk). Rosemary Gunn 01485 541712 
North Norfolk
Bure Valley Quilters (Corpusty, North Norfolk) – 2nd and 4th Monday afternoon every month.  Anne Humphrey 01263 587873
Dayspring Quilters, Smallburgh, (North East Norfolk) – 2nd and 4th Friday of each month. Contact Julie Pavey 01692 584991
In-Betweeners (Hempton, near Fakenham, North-West Norfolk) – Thursday afternoon approximately fortnightly. Ann Sayer 01328 862677
In Stitches (Lessingham, Nr Stalham.) 1st and 3rd Tuesdays, 9.30am – 4.00pm. (New members welcome)  Ros Peedle 01692 405591
Material Girls (Walcott) Annie Hollingshead 01692 500226
Mustard Seed Quilters   North Walsham,  Ros Peedle 01692 405591 (New members welcome)
Nelson Quilters (North Walsham, North-East Norfolk) – 1st Wednesday morning monthly. Irene Honeysett 01493 740973
Pink and Purple Patchers (Cromer) New group – Mary Robinson – email pinkandpurplepatchers@gmail.com
Poppy Crafters patchwork and all needlework (Upper Sheringham – North Norfolk coast) – 2nd and 4th Wednesday afternoons. Shirley Blackaller 01263-823499 (evenings best 6-8pm)
Railway Quilters (Overstrand, North Norfolk coast) – 2nd and 4th Tuesday morning each month. Vivian Maggs 01263 576986; Bridget Mann 01263 578164
Stitch Together (Sheringham). Community Centre, Holway Road. Maureen McCoy 01263 825139
Broadland
Oak Leaf Quilters Reepham Methodist Chapel  Barbara Kelly 01603 871724
Pegg's Yard Quilters (Aylsham)  Wendy Cartwright 01692 652317; Jenny Smart 01263 733960
Norwich and Outskirts
Drayton Patchwork Quilters (North-West of Norwich) – 1st Mon afternoon;  3rd Mon evening – every month.  Moira Bagnall 01603 260858
Jessop Crafty Quilters (Norwich) – Friday evening every week.  Margaret Crisp 01603 451987
New Costessey Quilters (Costessey) To be advised
Quaker Quilters (Central Norwich) – alternate Wednesday mornings. Peter Watson 01508 558423
Sewell Park Quilters (Norwich) – Tuesday evening weekly.  Shirley Cross 01508 494607
Sew Friendly Quilting & Craft Group (Bowthorpe area, Norwich) – alternate Thursday evenings. Sue Colman 01603 740089
East Norfolk, Yarmouth and District
Caister Stitchers (East coast)  Linda Futter 01493 721288
Ormesby Quilters & Craft Group (East Norfolk coast) – Thursday afternoons weekly  Christine Garrod 01493 730599
Penny Loaf Patchwork & Quilters (Fleggburgh,  East Norfolk, near Ormesby) – alternate Thursday afternoons. Maureen Scott 01692 598582
Winterton-on-Sea  – Wednesday mornings. Debbie Jones 01493 394030
Breckland
Broomstick Quilters and Stitchers (Garvestone) Margaret Smith 01362 850195
Riverside Patchworkers (Thetford) Tricia Harrison 01842 761568
Wayland Quilters (Thompson Community Hall, Thompson, Nr. Watton, Breckland) – 2nd and 4th Tuesday evenings (7pm to 9pm) except in August. Jane Lond-Caulk  07809 702357 or email waylandquilters@gmail.com
Windmill Quilters (Church Hall, North Tuddenham, Central Norfolk) 1st and 3rd Tuesday evenings 7-9pm and 2nd and 4th Wednesdays 10-2.30. Diane Everett 01362 698876
South Norfolk
Chet Valley (All Saints)  Patchworkers (Chedgrave, South-East Norfolk) – 2nd and 4th Wednesday morning every month.  Vicki Radley 01508 538461
Diss Quilters (South Norfolk)  Sue Dekeyser 01953 885533  sue-de@hotmail.co.uk
Impatiens Quilters (New Buckenham, South Norfolk) – 4th Thursday morning to mid-afternoon each month. Betty Stacey 01953 454790
Poringland Quilters (South-East of Norwich) – Monday mornings weekly  Jenni Southernwood 01508 492010
Poringland Library Quilters 2 groups. 1st and 3rd Tuesday & Thursday. Contact Poringland Library 01508 494891
Quilters' Retreat  (New Buckenham, South Norfolk) – 1st Thursday monthly morning to mid-afternoon. Linda Collins 01508 535928
Seedlings (New Buckenham, South Norfolk) 2nd Thursday Monthly, Morning to Mid Afternoon, between 10am and 3pm. Cathy Ward 01379 687897
Teapot Quilters  (Raveningham , South-East Norfolk) – 1st and 3rd Tuesday afternoons monthly (beg/intermediate). Helen Howes 01508 548137
Town Green Quilters (Wymondham, South-West of Norwich) – alternate Tuesday evenings. Pam Holmes 01953 600834
Suffolk
Brandon Busy Bees Chris Peacock 01842 878013
Crafty Quilting Angels Red Lodge, Mildenhall.  Linda French 07400 845245 (Mobile)
Kirkley Quilters (Lowestoft) Jean Chivers 01502 568759  New members welcome
Further information
If you would like to have further information of any particular group and would like someone to contact you, please click here to contact us.
If you find that any information listed here is incorrect please let us know, Thank You