---
Notice to members:
As you may already know, the NHS has been drastically short of PPE (Personal Protection Equipment). A local area group of volunteer sewers was formed to help make much needed scrubs, scrub hats and laundry bags. They have now completed all orders for scrub hats and laundry bags, but are still appealing for sewers to make scrubs and masks.
If you feel you would be able to help with this valiant effort please visit their website > 
Norfolk Scrubs Volunteers
---
NORFOLK QUILTERS' 40th ANNIVERSARY EXHIBITION   

12th – 14th JUNE 2020



IT IS WITH GREAT REGRET THAT WE HAVE HAD TO POSTPONE THIS EXHIBITION UNTIL JUNE 2021 DUE TO THE CORONA VIRUS PANDEMIC.
---
Norfolk Quilters welcomes members of all ages and abilities, 

from beginners to advanced stitchers, traditional to contemporary.
We hope you will join us and enjoy friendship, shared interests,

events, charity projects, talks, workshops and much more.
---
This website was last updated 26th July 2020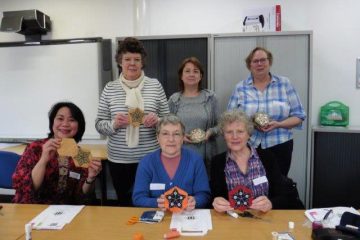 Norfolk Quilters were recently involved in The Makers Festival at The Forum in Norwich during which Betty Stacey held a mini workshop. These six ladies are proudly showing off their completed makes.