For membership, please download the current membership form here
and send to the membership secretary Jackie Wilkins
ooo000ooo
Members! – Millefiori Quilt
If you would like to see and download Michelle Evans' pattern and instructions for her beautiful Millefiori Quilt please log in to the members area using the login at the bottom of this page and the password on the back of your membership card. Click on the link to open the pdf pattern. You will then be able to print off the pattern templates actual size.  
ooo000ooo
Workshop – "Hares" with Dawn Cameron-Dick
Saturday 30th March 2019. Dawn will teach us to reverse hand applique. She will provide the lovely needles and threads, which will make your stitching successful, even if you've never appliqued before. A fun calm day of creating and stitching among friends.
ooo000ooo
This website was updated 18th March 2019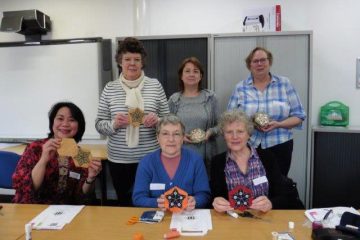 Norfolk Quilters were recently involved in The Makers Festival at The Forum in Norwich during which Betty Stacey held a mini workshop. These six ladies are proudly showing off their completed makes.