For membership, please download the current membership form here
and send to the membership secretary Jackie Wilkins
ooo000ooo
Next Workshop – "Seminole" with Betty Stacey
Saturday 27th April  in Attleborough
Learn to make traditional Seminole bands – Dominoes, Harlequin, Jagged Peaks and Box Kites. These originate from the Native American Indians of South Florida. The bands can then be incorporated into any future projects like bags, cushions or a small wallhanging.
See the diary page for more details
ooo000ooo
Members! – Millefiori Quilt – as seen in March QQ
If you would like to see and download Michelle Evans' pattern and instructions for her beautiful Millefiori Quilt please log in to the members area using the login at the bottom of this page and the password on the back of your membership card. Click on the link to open the pdf pattern. You will then be able to print off the pattern templates actual size.  
ooo000ooo
This website was updated 9th April 2019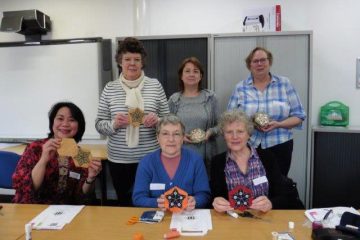 Norfolk Quilters were recently involved in The Makers Festival at The Forum in Norwich during which Betty Stacey held a mini workshop. These six ladies are proudly showing off their completed makes.