ooo000ooo
Norfolk Quilters AGM – Committee 2019-2020
The following NQ Committee members are retiring at this year's AGM: Betty Stacey, Ros Peedle, Christine Harrow, Mary Robinson and Sheelagh Foulke. We therefore have five vacancies for new committee members and welcome nominations from all those interested in joining the committee and helping to shape the future of Norfolk Quilters. Please contact any committee member for further details and you can download and print a nomination form here (click on the link to open the form)  >>>>>
ooo000ooo
Norfolk Quilters AGM – Chairman's Challenge 2019
The title of this year's challenge is "Black and White with a little bit of Bright". The finished piece must be 8″ wide x 40″ long, with black and white being at least 75% of the quilt top. It can be any technique, but must consist of three layers and finish to the exact stated size. Entries will be judged by this year's afternoon speaker at the AGM, Gail Lawther.
Norfolk Quilters would like to display the entries at next year's Exhibition. There's still plenty of time to plan and make your entry!
ooo000ooo
Members! – Millefiori Quilt – as seen in March QQ
If you would like to see and download Michelle Evans' pattern and instructions for her beautiful Millefiori Quilt please log in to the members area using the login at the bottom of this page and the password on the back of your membership card. Click on the link to open the pdf pattern. You will then be able to print off the pattern templates actual size, rather than cutting up your QQ!
ooo000ooo
This website was updated 3rd September 2019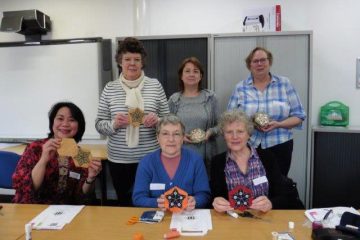 Norfolk Quilters were recently involved in The Makers Festival at The Forum in Norwich during which Betty Stacey held a mini workshop. These six ladies are proudly showing off their completed makes.