Attleborough Young Quilters - Workshops for 2017
Saturday 19th August 2017  -  Binding Quilt and Hanging Sleeve
Saturday 18th November 2017  -  Folded Material Techniques and Card Making
All meetings will take place at The Lighthouse, 131 Hargham Road, Attleborough, NR17 2JP from 10 am to 3.30 pm
For further information and booking please contact
Tricia Dickson on 01603 783067 or 07787790191,
Email: nq.youngquilters@gmail.com
All Saints Lessingham - Young Quilters Workshops 2017
Saturday 8th July 2017  -  Table Mat. Techniques: Adding Sashing and putting together a quilt sandwich and hand quilting.
Saturday 7th October 2017  -  Log Cabin Block. Techniques: Fabric strips are sewn around the centre with light fabrics on one half and darks on the other, separating the block into two triangles of colour.
                                                Grandmother's  Flower Garden Block
Saturday 4th November 2017  -  Ohio Star Block. Techniques: QST (Quarter Square Triangles)
                                                    Card making
All meetings will take place at All Saints School, School Road, Lessingham, NR12 0DJ from 10 am to 3.30 pm
For further information and booking please contact
Tricia Dickson on 01603 783067 or 07787790191,
Email: nq.youngquilters@gmail.com
Attleborough Young Quilters
At the Attleborough workshop on 20 August 2016 the Young Quilters created a block using foundation paper piecing and this will be one of the blocks to be included in their final quilt. It was in two parts - a house and a tree block which were then sewn together. From the photograph here, you can see that they all did very well.
The Attleborough group created the Log Cabin Block on 19 November 2016 and this will be the final block to be included in their quilt. They also made cards to practice their hand sewing skills.
The next workshop of this group will be on Saturday 11 March 2017 when they will be creating a zippy purse.
All Saints Lessingham School Young Quilters
On Saturday 5 November 2016 we ran our first workshop at All Saints Lessingham School, Lessingham (near Stalham). They created a small nine patch table mat.
The next workshop for this group will take place during the spring of 2017.
If you know any young persons (male or female) between the ages of 8 and 16 who are interested in learning to sew please ask their parent/guardians to email nq.youngquilters@gmail.com for more information.
Mobile: 07787790191
Landline: 01603 783067
nq.youngquilters@gmail.com
Tricia Dickson YQ Co-ordinator
25th June Workshop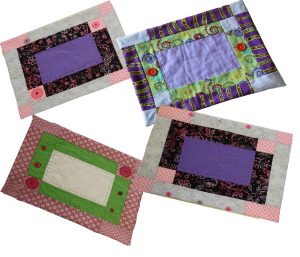 On 25th June the Young Quilters had a very enjoyable day creating a table mat.  First they had to put all the pieces in order before they started stitching.  They had to ensure the pieces fitted accurately.  Finally they put a quilt sandwich together and added some embellishments and hand sewing. From the picture you can see they all did very well.
A very big thank you to everyone who has donated material towards the Young Quilters' stash.   It will certainly help us to keep going for a short while.