In February the Forum in Norwich held its annual event to celebrate all crafts and things hand-made. Norfolk Quilters joined it in its second week with a stall from 18th to 20th. We were joined by the Norfolk Young Quilters and therefore had a large presence of four big tables.
As well as being able to display our work and advertise who we are, we provide an activity that attendees of the event can try for themselves. Our stall displayed a beautiful selection of quilts made by Linda Turner and Margaret Currie. We also had information about NQ and people were able to join up as members there and then.
Our activities were based around English Paper Piecing and appliqué. Visitors were given kits containing everything they needed (bar a needle and scissors which were provided for everyone's use). With the help of our willing team lots of visitors tried their hand at sewing sitting at our stall, many finishing the simple projects while they were there, others taking the kit away with them to finish. We were really busy with people stopping and enjoying the activity and over the three days we gave away hundreds of kits!
Over all a busy time. Thank you to all members who offered their time and hard work to make it a success.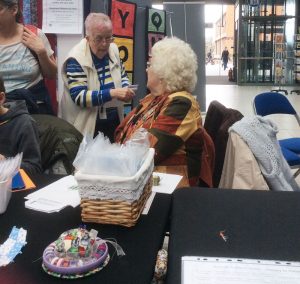 Kate Parkin.